FAQ's
Reclaimed Barn Wood Mantels for Fireplace Facts
Q. What is a reclaimed barn wood mantel beam?
Our reclaimed barn wood comes from only domestic century-old barns and structures, primarily in the Midwest from barns and buildings that have been deemed unsafe or otherwise scheduled for demolition. We reclaimed the components useful for mantels. The material comes in many shapes, sizes, and species depending upon what trees were growing near the barn and used as building material and how it was used in the original structure.
Patina varies widely as well because of not only the species, but also the climate and whether the old wood was exposed to the elements. For instance, a beam that was exposed to the rain, sun, and snow would have greater patina than that of material that was protected from the elements on the inside of the barn.
We use the primary load bearing structures of the building for mantels, like posts and ridge beams. For more girthy structures we might see beams used in main rafters, plates and trusses, knee bracing, queen and king posts, collar ties and webs. The point is, beams are girthy for either load bearing or spans. Smaller timber used to connect and brace these larger timbers are usually dimensionally smaller (e.g. under 6" wide x 6" high face) like rafters and purlins. and floor joists.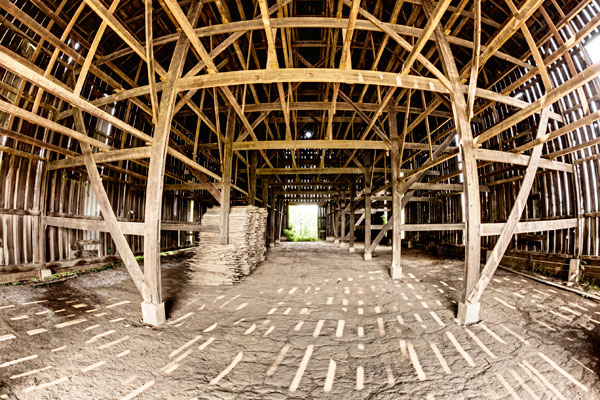 Q. What kinds of reclaimed barn wood fireplace mantel material types are there?
We offer three types of reclaimed wood mantels:
Hand Hewn which has the tell-tale 

axe marks which is a more rustic look

Rough/Live Sawn which is a more s

mooth surface to start with and has circular saw marks

 
Resawn which is the core of the beam, clean cut from removing the original faces
Q. Can I get a hand hewn reclaimed barn wood fireplace mantel in 6" x 6" or smaller?
Hand Hewn beams are not commonly found smaller than 7" x 7". This is because of the way the beams were cut to their final dimension a century ago. Instead of using a saw to turn a round tree into a useful square/rectangular for building, Craftsmen would use hand tools like broad axes and adzes to chip away material to get to the final size, often standing on top of the log and chipping an axe between their feet. Going smaller than 7" creates a dangerous situation. We can however make a custom hollow box beam for this scenario. We 'skin' a larger beam to create the ideally sized beam for your project.
Q. Where do you get your reclaimed barn wood?
For nearly 20 years, we've scoured the US for barns and century old historic structures scheduled for demolition and which will likely end up in a landfill. We intervene and recover the barn wood and corral boards to create new architectural components that pay homage to their origins while providing another century of stunning service. We're not cutting down trees by using new wood, and we're not "distressing" new wood to make it look old. We're using century old wood, aged by the elements over generations, from structures that are already or are about to be demolished. Without people like us buying this material (and you for buying it from us) this material would end up in a bonfire or the landfill.
Q. Why choose reclaimed wood? What are the advantages of reclaimed wood?
Reclaimed wood differs from new wood in that it has not been newly harvested.  Not only is the practice of reclamation environmentally beneficial, it produces a floor or wall paneling with more beauty, uniqueness, and character. You'll be able to see the difference between new wood that has been made to look old, and truly antique reclaimed wood. Choosing reclaimed wood of--any variety--is the most ecologically sound decision you can make. The density of old growth wood is significantly greater than wood we would harvest today. This is often why furniture and other items made 75 years or more ago are so strong and resilient; because the wood was.
See the difference in the number of growth rings and resulting density in the image below: the modern-day 2x4 on top of old growth timber below it
Q. Can I meet with someone to talk about my project?
Absolutely. Give Adam at call at 949-244-5123 or email us at Marketing@VintageWoodFloors.com 
Q. Is there any way to see what you offer in person?
Definitely. For us, seeing and feeling the texture of the wood is an integral part of deciding what would be a perfect fit for your home. You can visit our showroom inside our state of the art manufacturing facility/mill (by appointment only) to see large samples and discover what our company has to offer. Visit our Contact Us page for the address and driving directions but please make an appointment prior to your visit--we are a manufacturing facility and cannot accept walk-ins without appointments.
Q. Is there anything I should bring with me?
Bring the measurements for your project space (for instance, for beams you should know the general dimensions of the space the beam is going and if there are any space constraints). You're more than welcome to bring in or send reference pictures of mantels that you like, that will give us a better idea for what you need. 
Q.

 

What is a board foot?
Beams used for mantels are chosen from larger structural barn beams. If you choose to purchase a beam that has not been added to our mantel inventory by us, and choose a beam that is longer than needed you'll pay for the entire chosen beam. Beam pricing is calculated by the 'board foot'. A board foot is a volumetric measurement that is used in the United States and Canada to measure lumber. One board foot is the equivalent of a 12 in x 12 in x 1 in worth of material. To calculate board footage, take the width in inches, times height in inches, times length in inches and divide by 144. Or take the width in inches, times height in inches, times length in feet and divide by 12. For example, if you wanted to purchase a beam that was 6 in x 6 in x 8 ft, it would be 24 board feet (bf).
Our Fireplace Mantel Collections
Bring authentic rustic warmth into your living room or any space by updating it with a reclaimed barn wood fireplace mantel shelf that's over a century old. The naturally aged patina and unreproducible features such as patina, nail holes, checks and remnants of pest damage add one-of-a-kind characteristics that are unique to each piece. We create custom reclaimed antique wood fireplace mantels from a wide variety of reclaimed wood material and texture choices, including hand hewn, rough sawn, and resawn. We never artificially weather our wood to give it the appearance of antique wood. All of our reclaimed wood is over a century old. We produce your mantel as either a solid beam or as a box beam. Hollow box beams are an excellent choice when weight and ease of installation are a priority. For our box beams, please visit our box beam division by going to our BoxBeamCollection.com
All mantels are pressure washed and kiln dried, nylon brushed and fumigated against powder post beetles. Rough Sawn mantels may not always be pressure washed as this step removes some of the aged patina. While we provide (and recommend) our beams unfinished, you have a variety of finish options and customizations to choose from. These solid wood timbers are offered in standard lengths but we can easily trim to your specified length and finished to your liking upon request. There is no discount for cutting a longer beam to a shorter length of course. Matching corbels are also available.
Q. What do you do to old barn wood to make it a mantel?
We've made it easy. Here's what we've done with all of our mantels and what you'll get as a result:
Fumigated
Power washed to remove dirt and grime
Nylon brushed to soften the 'hand', which removes many of the splinters
Kiln dried
Flush cut one face (back side) so it will mount flush to the wall (given how unique every installation may be, we do not offer mounting hardware)
Q. How are fireplace mantels attached?
We recommend hiring an experienced professional to properly install your fireplace mantel. These are heavy and the last thing you want is a failed installation. There are several methods but all proper methods should include securing the mantel to the wall studs The most common installation choice is a floating mantel bracket; we recommend Shelfology for these.
Q. Will You Install My Mantel?
No. We are not licensed to do installations or on-site work of this kind. With so many builders being unusually busy right now it might be best for you to search for a local Handy-Man who will be more inclined and have the time to offer you.
Reclaimed Hand Hewn Mantels
Hand hewn fireplace mantels have the unmistakable look of hand made character in your space that cannot be easily replicated. The handwork skills used to hew these beams generations ago, and have been largely lost to time. These beams were created by hand using tools such as a broad axe and adze, and retain the historic charm embedded by the artisans who created them. 
Hand hewn reclaimed barn wood is considered the more rustic fireplace mantel for your home or space.
Reclaimed Rough Sawn Mantels
Rough sawn mantels are not as 'rough' as hand hewn and have a cleaner, more angular finished appearance than hand hewn mantels. These reclaimed rough sawn mantels maintain their original circular saw marks that were created when the beams were milled more than a century ago with machinery such as large band saws or circular saws. Originally used as structural members and braces, these barn wood mantels have a more consistent surface having been milled with machinery vs. hand tools. Features that are prominent in these reclaimed materials, such as notch pockets, natural checking, weathered grain, saw marks and nail holes, ensure each barn wood mantel is one-of-a-kind. 
If you have any questions about our reclaimed wood fireplace mantels, please don't hesitate to contact us.
Q. After I order my reclaimed wood fireplace mantel, how long does it take to ship?
We are typically able to ship all mantels shown for sale on our website the same day or the next business day depending upon when we receive the order and if the carrier has already done their pickup for the day, however, there are occasions such as holidays when it may take a few extra days.
For custom orders requiring a new pull from inventory, or additional requested work such as cutting or finishing, please allow 3-4 weeks to ship.
Q. How wide should a fireplace mantel be?
There is not an exact standard for this measurement and we will custom cut your mantel to the exact length requested (shorter than the existing mantel length as shown in the product listing). Please know that if you request cutting of either the face (the face that faces the room) or top face (the face that faces the ceiling) or the bottom (the face that faces the floor); you lose all of the patina and are left with a clean face. It would be better to submit a special order by emailing your mantel requirements to marketing@vintagewoodfloors.com and let us pull a beam that is closer to the dimensions you're looking for than to try to cut down a listed fireplace mantel to make it work. The type, color, finish, and sizes of mantels are a personal preference; as is the installed placement.
Q. What color will my mantel be?
We offer our fireplace mantels in their natural state with their unfinished aged patina. We highly recommend enjoying the natural patina as nature intended. Once received, you could choose to seal the beam and soften the surface texture by applying a hand wax, but most clients stick with the natural look. Any application of a sealant, stain, or wax will change the color of the mantel.
Q. Is there a range of texture on reclaimed wood fireplace mantels?
The texture is as varied as the the patina.
Hand Hewn has the 'roughest' texture with its axed marks and adze divots.
On our Rough Sawn reclaimed wood mantels, the texture is smoother than hand hewn but still has a rough hand.
A Resawn mantel will be the smoothest but in the process of resawing the original faces off of the beam core ,you will lose 100% of the natural patina. You'll have new, clean cut faces.
We nylon brush all of our fireplace mantels to reduce the roughness slightly but not so much as to remove the desirable patina. See the images in the individual listings for typical natural textures.
We don't automatically sand the mantels but if you'd like us to and are aware that this will remove some of the weathered patina, we can do that for you though we highly discourage it. We've sold thousands of one of a kind reclaimed wood mantel beams from our 30,000sf inventory and have stained, sealed, or sanded only a handful. 
Q. How will my mantel be shipped?
We ship all of our mantel and shelf orders either via ground for lengths up to 8' (all lengths over 8′ or weights over 150 lbs ship by freight service on a custom long pallet so the shipping cost is significantly higher).