The Dangers of Using Railroad Ties as Fireplace Mantels
Can I use a railroad tie as a fireplace mantel?
Never use a railroad tie as a mantel. It contains toxic chemicals.
If you're considering using a railroad tie as a fireplace mantel, you may want to reconsider after reading this.
Doing some research on our website analytics brought an alarming topic to the surface. We were receiving an increasing number of visitors to one of our earlier blog posts which mentioned using railroad ties as fireplace mantel beams [1] from people who had searched "railroad mantel DIY". People who were searching for that topic were being led to our earlier blog post.
What was most alarming was that the search trend was on the rise! More people are searching now for how to use them as mantels.
We had to put it out there how bad of a decision this could be, so sit back and take this in. 
[1] You can read our earlier informative post here "Is A Reclaimed Wood Mantel Right For My Home?"
Railroad ties are often treated with toxic chemicals
This makes them unsafe for use in your home. Here are some reasons why using a railroad tie as a fireplace mantel can be dangerous and unhealthy:
Toxic chemicals: VOC's (Volatile Organic Compounds) are emitted as harmful gases from certain solids or liquids. Railroad ties are often treated with creosote, a toxic substance that can cause health problems if inhaled or ingested. Creosote is a known carcinogen and has been linked to skin irritation, respiratory problems, and even cancer.

Fire hazard: Railroad ties are highly combustible, making them a fire hazard if used near a fireplace. The heat from the fireplace can ignite the creosote on the tie, causing a fire that can quickly spread to your home. When burned, creosote can release harmful chemicals into the air, posing a serious health risk to those in the vicinity.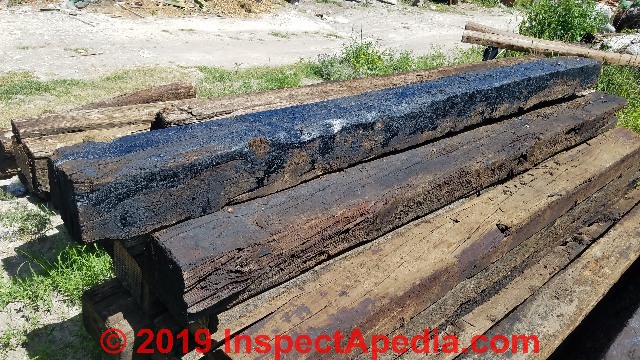 Railroad ties are not meant for indoor use and may contain various contaminants, such as oil, grease, and chemical residues, which can also pose additional health risks to you, your family, and your guests.
Just some of the warnings from a material safety data sheet:
Major Health Hazards: harmful if inhaled, harmful on contact with the skin, respiratory tract irritation, skin irritation, eye irritation, allergic reactions, nasal/sinus cancer, lung cancer, skin cancer
Flammable Properties:  Contact with heat may generate toxic and/or flammable gases.
There Is An Eco-Friendly Alternative
Instead of using railroad ties, a better alternative is to use reclaimed wood for your fireplace mantel. Reclaimed wood is wood that has been reclaimed from old buildings, factories, or other structures that are being demolished or renovated. Reclaimed wood is environmentally friendly and has a unique character that cannot be replicated by new wood. 
Some of the benefits of using reclaimed wood for your fireplace mantel include:
Sustainability: Using reclaimed wood reduces the demand for new wood and helps to preserve forests and other natural habitats.
Unique character: Reclaimed wood has a unique character and beauty that adds warmth and charm to any space.
Durability: Reclaimed wood is often stronger and more durable than new wood from its old growth tree origins and has already withstood the test of time.
Safer: Reclaimed wood is less likely to contain harmful chemicals and contaminants than new wood, making it a safer and healthier choice for your home.
In Summary
Using a railroad tie as a fireplace mantel is a dangerous and unhealthy choice that should be avoided. The risks of toxic exposure, fire hazard, and structural instability far outweigh any potential aesthetic benefits. Instead, consider using reclaimed wood for your fireplace mantel, which is not only safer and healthier but also the most environmentally friendly wood option, and has unique character and beauty that can't be matched.
Before you make any decisions about your fireplace mantel, be sure to consider the safety and well-being of yourself and your loved ones. Go with reclaimed wood like our reclaimed wood mantels.
Be Mantel Wise: See The Difference
Don't be fooled by a low price you see online. By the time you're done placing the order the price has more than doubled because of service charges tacked on to do the things we do at no charge:
One Price | No Extra Charges:
DONE/NO CHARGE: Fumigated
DONE/NO CHARGE: Patched Mortise Pockets
DONE/NO CHARGE: Nylon Brush Sanded
NO CHARGE: Power Washed
NO CHARGE: Wire Brushing
DONE: Naturally air dried
DONE: Natural patina, no hand distressing
Jump to our mantels here:
0 comments